Contact me for an initial appointment
Please send me a message with possible times to meet to talk about whatever is on your mind. An initial appointment is £50 for 50 minutes, paid by bank transfer. If after having had a chance to think about it, we decide to continue, we would meet for 50 minutes once a week, or more often, for as long as it is useful to you. We can have a conversation about a fair fee if £50 per session is not affordable. I prefer to work in person, but it is also possible to meet online via Zoom if there are times when it is not practical to meet in person.
We would agree to meet once weekly, or more often, if that would be useful for the work, with the understanding that we would give each other as much notice as possible of any changes, because meeting at the same time each week keeps consistency. It is possible there may be a chance to rearrange sessions with enough notice, otherwise cancelled sessions are charged in full, as that is your time each week. I invoice at the beginning of the month for the last month's sessions, not including days when I am not working (usually for two weeks in the longer school holidays around Christmas/New Year, two weeks around Easter holidays, and August).
8A King's Parade is right in the centre of Cambridge, opposite King's College, very close to Market Square
You can put the postcode CB2 1SJ into Google Maps to see that there are many public transport options, including the Park and Ride bus from Madingley Road to Bridge Street, or 'U' buses from Cambridge train station to Pembroke Street, a few minutes' walk away.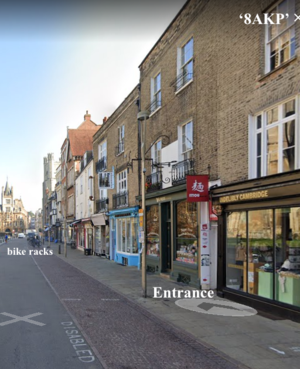 The entrance to '8AKP' is down a short passageway between 'Wilfred's of Cambridge' and 'Indelibly Cambridge', there is a red sign over the passageway for 'Ittou noodle bar' shown here
If you think you would like to meet with a psychotherapist in central Cambridge to see if it might be interesting to work together, please contact me to let me know possible times for an initial appointment and we will find one that works. Daytime and evening appointments may be available in December 2023.